For Repair Day 2021, We Repair the Planet!
This August 2021, the IPCC published a devastating new report on the climate crisis that has made clear the urgency of working for the Right to Repair. In this context, today the International Repair Day, we want to send an important and clear message: repair reduces carbon emissions.
But what does repairing have to do with carbon emissions?
One of the main contributors to carbon emissions is the manufacture of products, and that includes electronic devices. From mining mineral resources, processing materials, to transporting products, most of the carbon footprint of our devices occurs before we turn them on.
According to United Nations data, "the extraction and processing of natural resources represent approximately 50% of the total greenhouse gas (GHG) emissions produced globally. Additionally, if current trends in the consumption of products, including electronic devices, are maintained, greenhouse gas emissions from resource extraction and processing will increase 43% from 2015 to 2060. "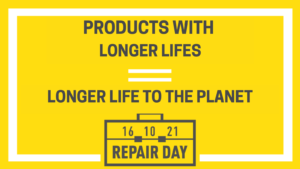 To get a little closer to our reality, we look at our own devices. It is estimated that 79% of the CO2 footprint of your smartphone has occurred before you have used it. This percentage rises to 84% in the case of a mixer. This highlights the impact that buying new products has on our carbon footprint instead of repairing them or buying them second-hand.
When we, as consumers, repair a broken device, we save ourselves having to buy a new one, avoiding the generation of new emissions, waste and waste of resources. The data provided by the European Environmental Bureau is revealing: extending the useful life of all smartphones, laptops, washing machines and vacuum cleaners in the European Union by 5 years would save almost 10 million tons of CO₂ emissions annually by 2030.
Given these data, it is clear that reducing emissions from the consumption of electronic products on a global scale would have a significant impact on the total reduction of emissions necessary to slow down global warming and mitigate the climate crisis. For this, it is essential that the Right to Repair becomes a recognized right protected by law. This is the goal of the #RightToRepair movement and the initiatives and members that integrate it.
To be able to repair our appliances, we need to have better legislation that guarantees everyone access to spare parts and repair manuals; long-term software and security updates, and requirements that ensure products are designed to last long and be repairable.
This October 16, we bet more than ever for the Right to Repair of all and for a more sustainable world!